Tour to Marettimo
Boat Tour to the Islands of Marettimo
Have you ever visited the most fascinating island of the Egadi? Tourist Lines takes you to discover the wild paradise of Marettimo.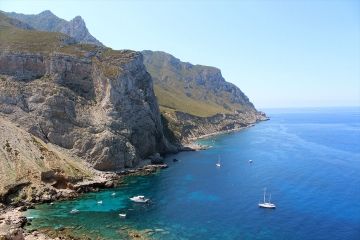 Select data and travellers
Without risk: 100% refund if you cancel within

25 Mar 2024
Favourite for its blue and turquoise sea, for its rare and variegated fish fauna, for its luxuriant and wonderful seabed: Marettimo holds the record among the Egadi islands. Its wild nature and its caves, protruding from the sea, hide mysteries, tell stories and legends. The many visitors to Marettimo, enchanted by its solitary charm, soon become its admirers. Tourists who visit the furthest away of the Egadi Islands, greet her with the promise of their return.
Tourist Lines wanted to dedicate to the discovery of Marettimo and its sensational seascape, an entire and unmissable Tour.
Schedule:
Departure at 9.00 a.m. - Return at 6.00 p.m.
Meeting point: At 8.45 am, at the Columbus Yatching Club pier in Via Ranuncoli, Trapani.
At 09,00 a.m. we will leave from the port of Trapani with destination the most far and wildest island of the Egadi: Marettimo.
First stop
At 10.30 a.m. we arrive in Marettimo with swim stops at the Grotta del Cammello. The rays of light that filter from the cave give the sea iridescent and amazing colours.
Punta Troia Castle and the Scalo Maestro
We will continue the navigation with route to Punta Troia Castle and the Scalo Maestro.
At 11.30 am on board will be offered by Tourist Lines a delicious welcome aperitif. You can enjoy fresh fruit and a wide range of refreshing drinks.
Discovering Marettimo
We will sail to Secca del Cretazzo, Cala Conca, Punta Cortiglio and Finocchio Marino. These four bathing sites have in common the breathtaking view and the beauty of the sea that instills a boundless feeling of well-being and freedom.
At 1.30 p.m. there will be a refreshment break for lunch. You can visit the island on foot and walk through its charming narrow streets.
Favignana and Levanzo
Departure from Marettimo is fixed at 3.30 pm: direction Favignana and Levanzo!
Depending on the weather conditions, we will allow you to make other stops for swimming in the sea. You will be able to admire Cala Rotonda and the Lovers' Cave or splash around in the uncontaminated sea of Levanzo, in Cala Minnola and Cala Fridda.
At the end of our breathtaking tour, we will offer you an aperitif with typical local products and prosecco.
Return
The return to Trapani is schedule for 6pm.
What's included in the tour:
Welcome drink and aperitif at the end of the day
Crew on board
Fuel
Alcoholic and non-alcoholic drinks
What we provide:
In the eventual swim stops, guests will be provided with a snorkeling mask and tube as well as lifebuoys for those unfamiliar with the sea.
On board customers will find all the security equipment
All stages and timing are designed and tested to ensure a more complete experience of visit, relaxation and fun for our guests. The excursion can be modulated on request of the groups on board.
Itineraries may be subject to variations and/or may be cancelled according to marine weather conditions.
Why book on Tourist Lines?
Free cancellation up to 7 days in advance

No booking fees

Secure payments

24/7 support

Immediate booking confirmation

Issue of electronic ticket

Covid security
Our priority is to maintain high hygienic standards to ensure the full safety and health of our guests.
For this reason we have specific procedures that we put in place:
Detailed sanitation of the common areas. Hand sanitizer available to anyone.
Maintaining the distance of at least one meter between each guest and the use of sanitary devices by our staff.
Daily check-up of our employees to ensure they are symptom-free.
In case you have booked a tour and experience symptoms, we offer you the option to cancel or move your excursion.
Do you need help?
Tourist Lines has created a direct line with its customers. You can use the email service or WhatsApp number to contact us and to clear up any doubts you may have.
Problems with the booking? Contact Tourist Lines, our team will guide you through the procedures, solving any issue in a short time.
Rely on us! Tourist Lines leads you even before navigation…