Favignana and Levanzo Tour
Favignana e Levanzo Tour from Trapani - 1 Day
The Tour guides you to the discovery of Favignana and Levanzo, pearls of the Egadi Islands. Don't miss the opportunity to visit the most beautiful beaches, coves and coasts with our boat trip.
Select data and travellers
Without risk: 100% refund if you cancel within

23 Feb 2024
Why travel with your mind if you can enjoy the charm and beauty of the uncontaminated sea of Favignana and Levanzo? One day at the Egadi is enough to forget your thoughts, regain your good mood and rediscover a pleasant sense of well-being and relaxation. Have you never tried it? The time has come to experience it...
Choosing Tourist Lines as a "travelling companion", on the route to the Egadi, means preferring familiarity, kindness, fun, comfort and safety in navigation.
What are you waiting for? Backpack on your shoulder, sea bag ready... Let's set off to discover Levanzo and Favignana.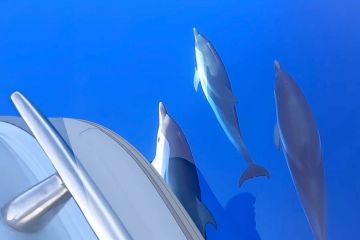 Tour schedule:
Departure time 10.00am – Return time 6.00 pm.
Meeting point: at 9,45 at the Columbus Yatching Club pier, in Via Ranuncoli, Trapani.
We leave at 10.00am from the port of Trapani to the biggest islands of the Egadi, Favignana.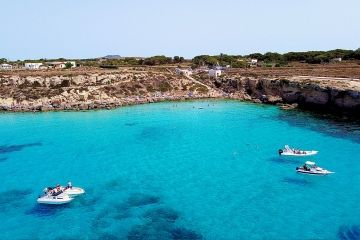 First stop
During the first stop, scheduled at 10.45 a.m., the not-to-be-missed Cala Azzurra with its breathtaking views and azure blue waters will be visited.
Bue Marino and Cala Rossa
The next stop will be at 11.30 am at Bue Marino, one of the most beautiful places on the island for the tuff quarries that surround the deep blue sea. On board will be offered an aperitif based on fresh fruit and refreshing drinks.
It will depart at 12, Cala Rossa route! You will find yourself in front of a real natural swimming pool, unique for the clarity of the sea.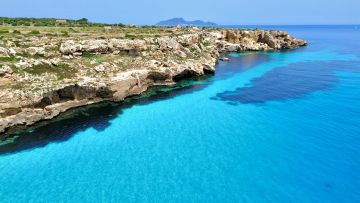 Discovering the village of Favignana
At 12.30 p.m. you will arrive at the Scalo Cavallo, a seaside resort that satisfies the tastes both of adults and children for its low and not very jagged rocks.
Tourist Lines also allows you to visit the island of Favignana on foot. Mooring at the dock of Favignana is scheduled at 13.00. You can stroll through the lively alleys and take advantage of our agreements with local restaurants to enjoy a pleasant lunch break.
At 3pm we will take you to the Grotta degli Innamorati. Our Skipper will accompany you to discover the natural wonders that frame the cave (which can only be visited by sea).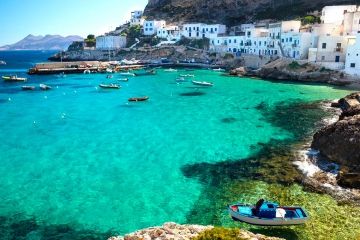 Discovering the island of Levanzo
At 4.30 p.m. we will sail towards the last stage of the tour: Levanzo. There will be a stop for a swim at the Grotta dei Separati and a visit to the island on foot.
The last stops will be Cala Fridda and Cala Minnola, enchanted places where you can swim undisturbed, in pure and refreshing water. At the end of the day, Tourist Lines will offer you another tasty aperitif, with prosecco and typical local products.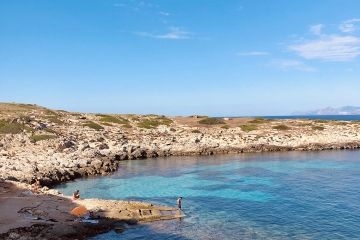 Return
At 5.30 p.m. we will resume the sea route to Trapani.
Before returning to the port, a short stop will be made to admire the imposing Castello della Colombaia, a medieval fortress.
The arrival in Trapani is scheduled at 6.15pm.
What is included in the tour
Welcome aperitif and end of day
On board crew
Fuel
Alcoholic and soft drinks
Insurance
Moorings and Ports
Customs and Local Taxes (where required)
What do we provide?
• During the bathing stops, guests will be provided with a snorkeling mask and tube as well as lifebuoys for those unfamiliar with the sea.
• On board customers will find all the security equipment
The programme and timing of the Tour are designed to guarantee you an experience of absolute relaxation and fun.
Itineraries may be subject to change or may be cancelled depending on marine weather conditions.
Why book on Tourist Lines?
Free cancellation up to 7 days in advance

No booking fees

Secure payments

24/7 support

Immediate booking confirmation

Issue of electronic ticket

Covid security
Our priority is to maintain high hygienic standards to ensure the full safety and health of our guests.
For this reason we have specific procedures that we put in place:
Detailed sanitation of the common areas. Hand sanitizer available to anyone.
Maintaining the distance of at least one meter between each guest and the use of sanitary devices by our staff.
Daily check-up of our employees to ensure they are symptom-free.
In case you have booked a tour and experience symptoms, we offer you the option to cancel or move your excursion.
Do you need help?
Tourist Lines has created a direct line with its customers. You can use the email service or WhatsApp number to contact us and to clear up any doubts you may have.
Problems with the booking? Contact Tourist Lines, our team will guide you through the procedures, solving any issue in a short time.
Rely on us! Tourist Lines leads you even before navigation…