Exclusive Tour
Private Tour Favignana and Levanzo from Trapani
Live your holiday in total freedom and familiarity. Tourist Lines offers you an exclusive boat rental service. You choose with whom to leave, we provide you with the means to make your dream come true!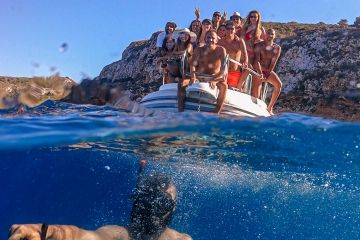 Select data and travellers
Without risk: 100% refund if you cancel within

25 Mar 2024
Tour schedule
Do you want a tour tailored to your dreams? Tourist Lines makes your every wish come true. In the Exclusive Tour, we offer you an exclusive boat rental service. Ideal for those who want to live a mini - holiday in the Egadi Islands in total relax and with more privacy. We give you the means, you choose your travel companions! The exclusive tour is the most suitable formula to live the magic of the sea, in complete freedom, familiarity and fun. We will reserve a boat at your complete disposal.
What's included in the tour
Welcome drink and aperitif at the end of the day
Crew on board
Fuel
Alcoholic and non-alcoholic drinks
What we provide
In the eventual stop for bathing, guests will be provided with a snorkeling mask and tube as well as lifebuoys for those unfamiliar with the sea.
On board customers will find all the security equipment
All stages and timing are designed and tested to ensure a more complete experience of visit, relaxation and fun for our guests. The itinerary can be modulated according to specific customer requests.
The itineraries may be subject to variations and/or may be cancelled according to marine weather conditions.
Why book on Tourist Lines?
Free cancellation up to 7 days in advance

No booking fees

Secure payments

24/7 support

Immediate booking confirmation

Issue of electronic ticket

Covid security
Our priority is to maintain high hygienic standards to ensure the full safety and health of our guests.
For this reason we have specific procedures that we put in place:
Detailed sanitation of the common areas. Hand sanitizer available to anyone.
Maintaining the distance of at least one meter between each guest and the use of sanitary devices by our staff.
Daily check-up of our employees to ensure they are symptom-free.
In case you have booked a tour and experience symptoms, we offer you the option to cancel or move your excursion.
Do you need help?
Tourist Lines has created a direct line with its customers. You can use the email service or WhatsApp number to contact us and to clear up any doubts you may have.
Problems with the booking? Contact Tourist Lines, our team will guide you through the procedures, solving any issue in a short time.
Rely on us! Tourist Lines leads you even before navigation…